A leading tree service marketing agency has identified a strong uplift in the economic activity of US tree service businesses. Now, 82% report not being affected by the pandemic vs 32% in March.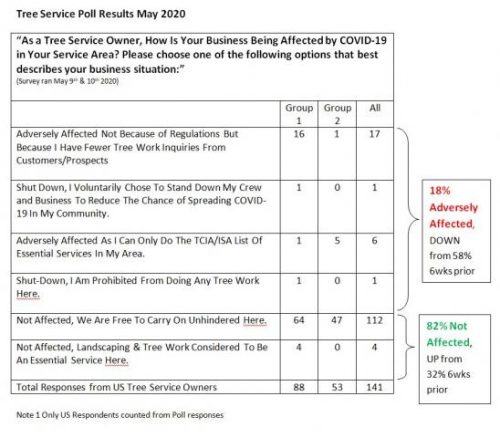 Jupiter, United States - May 29, 2020 /PressCable/ —
US tree care firms and workers are leading the bounce-back in the home services sector of the US economy. MarketingDirector.com, a leading tree service marketing agency, announces the results of a new study. This reveals that more than four in every five (82%) US arborists and tree service owners say they are not being adversely affected by the COVID-19 pandemic.
The number of arborists not being adversely affected (82%) is a huge improvement on the 32% figure surveyed and reported at the end of March 2020.
In fact, nearly one in three of all US respondents (30%) added that they were busier than ever. And since the survey on 9th and 10th May, restrictions in several States have been further eased. This bodes well for a continued, positive trend.
Against this good news, nearly one in 5 tree firms (18%) record that business was still being adversely affected by the COVID-19 pandemic economically. However, this figure is down from 58% 6 weeks ago, again a significant improvement.
The new poll attracted 143 responses from US tree service business owners and arborists between Saturday May 9th and Sunday May 10th. This compares with 212 respondents at the end of March 2020 in a near identical survey. As before, responses from non-US tree businesses have been stripped out of the findings. Nevertheless, the positive trend is also seen in European and Australasia tree service companies, albeit with a slightly weaker recovery rate.
Tree marketing expert John Hackwood of MarketingDirector.com explained: "The new poll reveals the tree service industry is at the 'cutting edge' of the US economic recovery following the Coronavirus emergency. There are 4 main reasons for the fast bounce-back in demand for tree services across the country:
Firstly, the tree service industry has been declared an Essential Service in many states. This means they are largely unaffected by Stay-At-Home or Shelter-In-Place orders from State Governors. Secondly, with more residential customers at home during lock-down measures, more people are spending time in their yard and noticing tree problems, tree pests, limb damage and tree trimming or removal needs.
Thirdly, in most States there is a seasonal upsurge in demand for tree services between late Spring and Fall, peaking in the mid to late Summer. Lastly, pent-up demand from the general lockdown measures in March and April will also have contributed to this up-swing.
John Hackwood added: "The rapid and positive recovery experienced by the majority of US tree firms is remarkable as it is encouraging. The industry employs nearly 300,000 tree workers, arborists, climbers and other specialists. Most of these jobs will be protected by this economic news with some of the remainder covered by stimulus measures. The results of this modest but statistically significant survey bode well for other home service businesses and contractors when they, in turn, are allowed to operate more freely.
Poll Questions & Results May 2020
The poll was again conducted using the Polls function in two separate Facebook Groups. Both Groups are popular among tree service business owners and arborists. Respondents were again presented with a simple question and 6 options from which they could self-select one that best described their current business situation. The question and the responses are listed below.
The same question and response options 6 weeks on:
"As a Tree Service Owner, how Is your business being affected by COVID-19 in your service area? Please choose one of the following options that best describes your business situation:"
6 Response Choices:
"Not Affected, all tree work regarded as an Essential Service here."
"Not Affected, we are free to carry on unhindered here."
"Adversely Affected, as I Can Only Do the TCIA/ISA list of Essential Services In my area."
"Adversely Affected, not because of regulations but because I have fewer tree work Inquiries from customers/prospects."
"Shut Down, I voluntarily chose to stand down my crew and business to reduce the chance of spreading COVID-19 In my community."
"Shut-Down, I am prohibited from doing any tree work here."
Extra Questions Added By Respondents
The poll in both Facebook Groups allowed respondents to add a poll question of their own. This was done to flush out additional texture in the findings. In each Facebook Group poll, respondents added two extra questions. Here are all 4:
1. "Busy As Ever, Can Barely Keep Up" (35 x US responses)
2. No-one Tells Me What To Do. I Am The Best. I Do What I Want (1 x US response)
3. "Working, Can't Keep Up With Incoming Work" (4 x US responses)
4. "I'm Not A F**** Sheep, Know This Is Bull*** and Kept On Working" (1 x US response)
The above responses were added to the results numbers for the "Not Affected, we are free to carry on unhindered here." category.
Results in Detail
Please see this article for full results details:
https://marketingdirector.com/US-tree-service-businesses-to-lead-post-COVID-economic-recovery
About MarketingDIrector.com
MarketingDirector.com's marketing solutions drive live phone inquiries from prospects in specific local areas direct to tree service clients. The highly-qualified live calls are raised by a unique mix of digital marketing tactics. Unlike other lead generation companies, MarketingDirector.com only sells the live calls to singular clients in each 'fenced' geographic service area. In this way, each client enjoys exclusivity in their own area, safe in the knowledge that their calls will not be addressed by another local business.
The service is suitable to those tree service companies wishing to add more customers and grow their business. Fully 12% of those tree businesses surveyed in May 2020 say they are experiencing fewer calls and lower demand from customers. MarketingDirector.com can put all these businesses at the front of the queue for the remaining available tree-related business in their localities. https://marketingdirector.com for more information.
Contact Info:
Name: John Hackwood
Email: Send Email
Organization: MarketingDirector.com
Address: 601 Heritage Drive, Jupiter, Florida 33458, United States
Website: https://marketingdirector.com
Source: PressCable
Release ID: 88959499